Today is release day for DON'T FALL!!! I'm so excited! (And nervous. Just ignore the nail-biting and paper-bag breathing. Okay? Thanks.)
In this contemporary retelling of Rapunzel, seventeen-year-old Anya leads a secluded life in a house on the edge of town with her adopted mother. She doesn't go to public school, doesn't even have a best friend. But Anya doesn't seem to mind. She has her books, her photography, and her daydreams and would do anything to please her mom.

Until one day at the library, the only place Anya is allowed to go alone, she takes a picture of a beautiful boy. Before long she's lying to her mom, and sneaking out to meet Zander. But Zander wants more than a secret romance. If Anya wants to be with the boy of her dreams, she's going to have to risk her relationship with the only other person she's ever cared about.
Little secret, Don't Fall actually ended up releasing a week early, and this happened:
I may have freaked out a little. :)
Rapunzel was always one of my favorite fairy tales, (from way before Tangled) and I really loved writing a contemporary retelling of it. I love Anya and Zander so much, and I hope others love them too! :)
Today is also the release of PERFECTLY MESSY by Lizzy Charles! It's super awesome that we get to share a release day and has been a lot of fun! We're even having a joint FB party tonight! We'll have lots of teasers, give-aways, and pics of desserts. :) You can join us
HERE.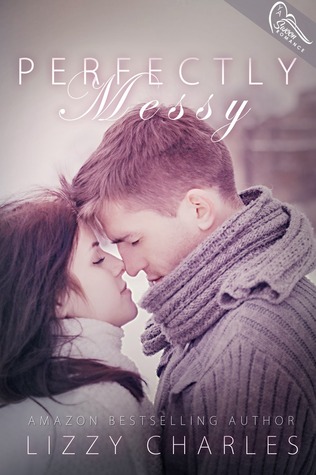 Popularity isn't everything it's cracked up to be. Justin Marshall knows this better than most. For the captain of the basketball team, small business owner, and son of Minnesota's next governor, life can get pretty overwhelming. But Justin can handle anything as long as he has Lucy, the girl who fell for the man he's trying to be.

But for Justin and Lucy, finding time together proves challenging. Stolen kisses and whispered promises just aren't enough. That is, until scandalous photos of the couple are leaked to a press intent on creating a juicy scandal during Justin's dad's gubernatorial campaign. And when Lucy becomes fair play for the tabloids and gossip pages, Justin does the only thing he can to protect her: he breaks her heart.

For Lucy, junior year is everything she hoped it would be: new friends, second chances, and a boyfriend she can't stop kissing. That is, until the boy she's pretty sure she loves chooses the life his family wants for him, over her.

Now it's up to Lucy to teach him what it really means to have everything. Because for Justin, being who everyone needs him to be just might cost him the one person he can't live without.
Sounds good, doesn't it? I loved Effortless With You and I can't wait to read Perfectly Messy!
Happy Book Birthday Lizzy!
(Barnes and Noble coming soon!)