I have a zillion books on my TBR list, but I'm going to start with books I actually have, and therefore should be high on the list. (I keep telling myself I won't buy new books until I get through a bunch of the ones I have. But then I see a book I need.)
Elizabeth Fanning's life looks pretty perfect, judging by the diamond ring on her finger. Her fiancé, Landon, is sweet, handsome, and hilarious. The trouble is, before they've even tied the knot, their sex life has gone from mind-blowing to "meh"—and Liz isn't ready to be part of an old married couple. After a cathartic call to her best friend, Liz comes up with a brilliant idea. She and Landon may never be able to re-create the magic of their first time, but how amazing would their wedding night be if everything below the neck was off-limits until then?
Liz thinks it'll bring them closer together. Landon's convinced she'll cave first. So they raise the stakes: Whoever lasts longer gets to pick their honeymoon destination. With her heart set on the Bahamas and Landon fighting for snowbound Utah, Liz simply has to win. But pretty soon, her body is screaming for attention, and Landon's never seemed so far away. Has Liz's experiment backfired? Losing their little competition would be frustrating—but the one thing she can't afford to lose is him.
Why it's on my TBR list: I have pretty much loved everything Cassie Mae has written
so all her books automatically land on my TBR list.
Her writing is fun and witty, and her characters are real.
(Update: Okay, so I wrote this post last week and have since started this. So maybe it's not technically on my TBR list anymore, but it is very good so far!)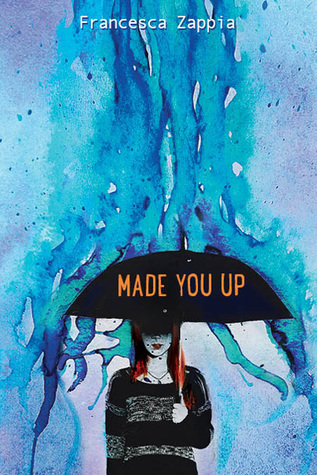 Reality, it turns out, is often not what you perceive it to be—sometimes, there really is someone out to get you. Made You Up tells the story of Alex, a high school senior unable to tell the difference between real life and delusion. This is a compelling and provoking literary debut that will appeal to fans of Wes Anderson,
Silver Linings Playbook
, and
Liar
.
Alex fights a daily battle to figure out the difference between reality and delusion. Armed with a take-no-prisoners attitude, her camera, a Magic 8-Ball, and her only ally (her little sister), Alex wages a war against her schizophrenia, determined to stay sane long enough to get into college. She's pretty optimistic about her chances until classes begin, and she runs into Miles. Didn't she imagine him? Before she knows it, Alex is making friends, going to parties, falling in love, and experiencing all the usual rites of passage for teenagers. But Alex is used to being crazy. She's not prepared for normal.
Funny, provoking, and ultimately moving, this debut novel featuring the quintessential unreliable narrator will have readers turning the pages and trying to figure out what is real and what is made up.
Why it's on my TBR list: I think this book sounds fascinating.
For one, I enjoy unreliable narrators. For two, I haven't read many books dealing with schizophrenia, and everything I've read says this book deals with it well.
If you want to add these books to your TBR list on Goodreads,
you can click the titles above.